See on Scoop.it – The Future of Education – Where do we go now?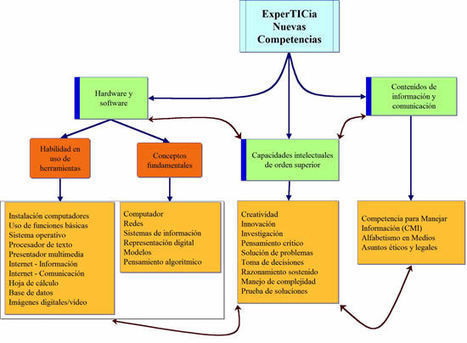 El Modelo propuesto por la Fundación Gabriel Piedrahita Uribe (FGPU) para integrar exitosamente las Tecnologías de la Información y la Comunicación (TIC) al currículo escolar, demanda atender cinco componentes básicos: a) Dirección Institucional, b) Infraestructura TIC, c) Coordinación y Docencia TIC, d) Docentes de otras Áreas y e) Recursos Digitales. Este documento se enfoca en el tercero de los componentes citados, el de Coordinación y Docencia TIC.
Es necesario aclarar que antes de abordar el componente "Coordinación y Docencia TIC" del Modelo, deben estar resueltos los dos primeros componentes: a) el compromiso de la Dirección Institucional con la incorporación de las TIC a su proyecto educativo y b) el aspecto relacionado con Infraestructura TIC; es decir, hardware/software, conectividad y soporte técnico.
Con base en la experiencia desarrollada en la asesoría y el acompañamiento dado a varias Instituciones Educativas, la FGPU aprendió que, además del apoyo decidido y constante de las directivas y de contar con una infraestructura de TIC adecuada, es fundamental que la institución tenga un docente de informática experto en TIC. Este docente debe convertirse en un Coordinador de Informática que pueda atender con solvencia tres retos muy importantes para el éxito del proceso: a) transformar positivamente la enseñanza de las TIC de forma que los estudiantes logren real competencia en estas; b) comprender a cabalidad el alcance y potencial de transformación que tienen las TIC en educación, esto es, tener claridad sobre la manera como las TIC pueden apoyar efectivamente el aprendizaje en otras áreas curriculares básicas y cuáles son las estrategias pedagógicas adecuadas para hacerlo; y c) apoyar tanto a los demás docentes de informática, como a docentes de otras áreas académicas en la incorporación de las TIC a sus procesos de aula. Esto último se refiere a estar en capacidad de persuadirlos en el uso y apropiación de las TIC, mostrándoles las ventajas de utilizarlas para enriquecer sus clases y capacitándolos en las estrategias didácticas adecuadas para lograrlo.
See on www.eduteka.org